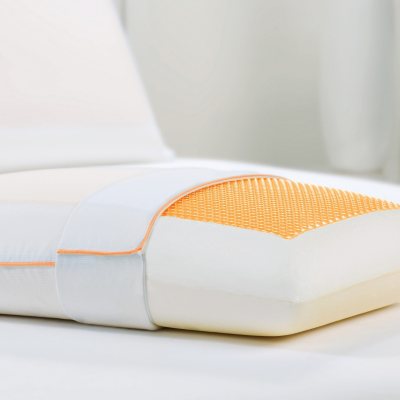 I bought this pillow exactly a month ago at Sam's Club and I LOVE it. It has just the right combination of firmness but softness and is slightly cool when you put your head on it.
The Dreamfinity Cooling Gel and Memory Foam Pillow
The memory foam helps it keep its shape and it molds to your head, neck and shoulders nicely and the cooling aspect is nice for those of us not too far from that magical time of life when hot flashes come calling. However, my son who is ten (and autistic) seems to have fallen in love with it and keeps taking it when I'm up all night working on blog posts 🙂  So…I may be adding it to his Christmas list so I can have my pillow back lol.
I initially bought it because I have a bad back that causes insomnia for me quite often and thought the memory foam would support my neck better and help my back; and I liked the cooling idea because time of life or not, I've always liked cool, crisp sheets and pillows when I first lay down 🙂
It's made by Dreamfinity and you can get it at SamsClub.com for sure. You know how the stores are. Sometimes what you're looking for is there, and sometimes it's not. I bought it in the store last month to the day, and was there yesterday and didn't see it.
This is a really HEAVY pillow as far as pillows go too. You don't want to get into a pillow fight with this bad boy, you'd hurt someone! 🙂  But to me, that shows you its quality. A middle-aged woman and a little autistic boy love it for sure 🙂 This pillow gets 5 stars from me for sure!
FYI: Sam's Club did not pay me to write this review 🙂