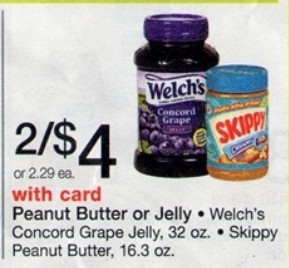 This Sunday, 9/29 through 10/5, score some Skippy Peanut Butter for just $1.00 at Walgreens.  I'm a dedicated Jiff lover myself, BUT, I will use Skippy for baking during the holidays so I may be picking some of these up myself for this price!
This Sunday, Skippy is on sale for $2. Match a $1 off coupon and you'll be paying just $1 each!
There was also a $0.55/1 printable, which would make them just $1.45.  Get it while it lasts!
Here's how:
Buy: (1) Skippy Peanut Butter, 16.3 oz – $2
Use: (1) $1/1 Skippy Peanut Putter or Spread Product, exp. 10/26/13 (SS 09/15/13)
Or use: (1)  $0.55/1 Skippy Peanut Butter Product printable
Total out of pocket:  $1 ! (Remember to stock up at this price!)

Thanks Saving and Sharing for Christ!